Stone Floor Cleaning Specialists
Easy StoneKeeping are proud to be a premier stone floor cleaning specialists. We have experience in working on all types of stone floor including marble, limestone, slate and travertine. Whether you have a marble bathroom which has lost its shine, or a limestone kitchen floor which has seen better days, you can count on your local experts to restore your floor to its former glory.
Some natural stones are more porous than others, such as limestone, marble & terracotta. They are more prone to staining from spillages and absorbing water, over time, this can cause them to lose their polished, reflective shine and appear lifeless and dull. When used in practical areas such as bathrooms and kitchens, the surface must be carefully polished and sealed to maximise its lifespan. Any spillages should be cleaned up promptly to stop the surface absorbing the substance.

In addition to interior floors surfaces, Easy StoneKeeping are also able to clean exterior stone tiles such as garden paving. Exposed to the elements, exterior tiles are more prone to weathering and in humid seasons, algae growth. You can count on us to restore your garden paving tiles to the best condition possible.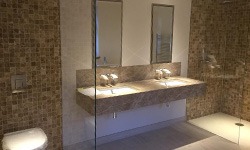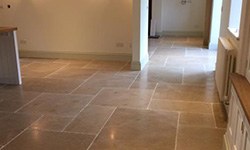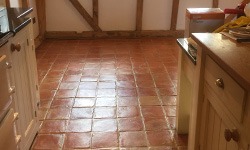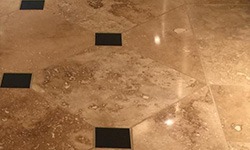 Types of Stone Floors
Along with the development of technology, we are able to prepare floor materials and use them in a more versatile way than ever. There are many types of stone floors available, including natural stone, fired clay and composite materials. Easy StoneKeeping are experienced in working with all stones floor, inside and out.
Marble: long been used for sculptures for its beautiful colour and easy to work with, marble floors are often chosen for their signature natural pattern. Once polished, a marble floor radiates timeless elegance. They are available in a variety of naturally-formed colours depending on the condition the stone was formed. Some tones require more specific conditions than other and are thus rarer.
Limestone: the neutral shade of limestone is suitable to complement any style of home. Limestone tiles can be honed and polished for a classic look, or left matte for an authentic appeal. They are available in an array of styles depending on the source of the stone. The most famous limestone is perhaps the Cotswold stone- its honey hue has long captivated the hearts of many.
Terracotta: terracotta tiles are formed by shaping and firing clay in a specialist kiln. Because of this, they are incredibly flexible in terms of design. They are the perfect floor surface for an authentic country kitchen or a Mediterranean-themed home. Their fiery umber tones are perfect for bringing a sense of cosiness and warmth to the area.
Terrazzo: because terrazzo is a composite material, they offer the most flexibility in design as they can be poured to any specification. They contain chips of other material such as marble and glass to form a granite-like appearance. Once laid, the surface can be grinded and polished to give a mirror finish just like natural stone. As opposed to natural materials such as terracotta and marble, terrazzo floors require less maintenance and more environmentally friendly as they contain recycled materials.
Best Way to Clean Stone Floors
Unlike other hard floor surfaces such as timber, natural stone floors require more care and attention to maximise their potential. If you have a stone floor in your home, such as marble floor tiles for your bathroom, it's crucial that you follow a special cleaning routine.
It's tempting to think that you can use the same household cleaners to clean a stone floor, however in truth it could have an adverse effect on the surface of the stone. Household cleaners are often extremely corrosive and could eat away the polish, causing the floor to lose its shine. You should also avoid using natural cleaning solutions such as vinegar and lemon juice for the same reason.
The best way to clean a stone floor is actually by prevention- dry sweeping with a microfibre mop can help pick up the dirt and dust on the surface before it settles into the minute cracks and scratches. You should only use a pH neutral cleaning product to clean stone floors, and it's essential first to identify the type of floor you have. If you are unsure or need some advice, always consult a professional such as Easy StoneKeeping.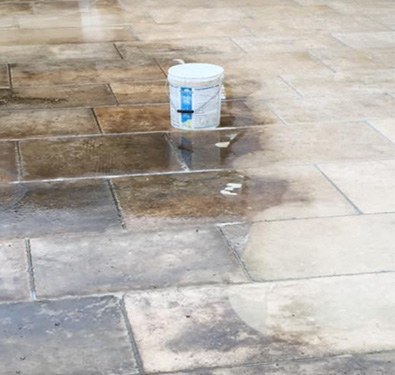 Stone Floor Polishing Service
Over time, even the most shiny and reflective floors will appear dull and worn. This is because of microscopic scratches from the foot traffic which eventually compromises the surface's ability to reflect light. Fortunately, they are often surface damage and most stone floors can be re-polished to regain their shine.
Easy StoneKeeping specialises in offering an efficient marble and other stone floor polishing service to residential and commercial properties across London and the South East. We have worked with stone floors of types and conditions over the years and there is no better satisfaction than returning a floor to its best condition. Cleaning and polishing a floor is a less invasive and certainly more cost-effective solution over replacing an old, lifeless floor. The difference before and after is undeniable.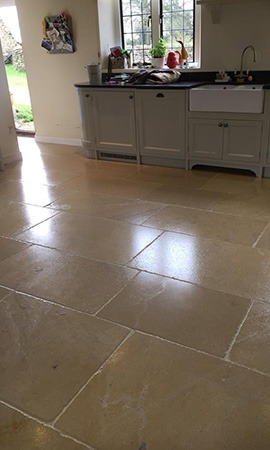 Stone Tiles Repair Wiltshire
Although they are durable materials, stone can unfortunately be the victim to cracks and damage, caused by different reasons. The most obvious culprit is heavy impact, which can forcibly crack the stone tile. Other surprising causes include underfloor heating- the floor beams expand and contract with the fluctuating temperature and literally pulls the tiles apart.
For minor damages such as cracks, Easy StoneKeeping may be able to carry out in-situ repairs with a specialist filler and carefully disguise it within the pattern of the stone. Once sanded and polished, the repair is often unnoticeable. For more extensive damage, the tile may have to be replaced. If there are matching tiles available, Easy StoneKeeping can replace individual broken tiles and re-seal the floor with a protective coating. If required, we can additionally hone and polish the floor for a flawless mirror finish.
Limestone Floor Restoration
Limestone is one of the most popular choices for garden paving- it's affordable, durable and widely available in an array of colours to match your garden. The subtle texture of limestone often complements the natural appeal of the space. However, they are a fairly porous stone and tend to collect dirt on their surface pockets- particularly if they are exposed to the elements.
Dirty limestone is not appealing and certainly not a sight you want in your garden. Limestone tiles which are outdoors tend to harbour more dirt than their indoor counterparts, yet the routine for cleaning both is the same. Make sure you do not use a standard patio cleaner as they often contain corrosive acids which will ruin the stone. If you have access to a pressure washer, it's recommend only on an infrequent basis. Tt's one of the most intrusive methods of cleaning natural stone and it may not lift all of the dirt collected in the microscopic pockets of the stone.
Easy StoneKeeping are experts at working with limestone floors both indoors and outdoors. Our limestone floor restoration service are available across London and the South East of England. After the floor has been cleaned and restored, we offer a bespoke maintenance package which is tailored to the usage of the household. For more information, please simply get in touch via 12345 67890 and speak with a member of our friendly team.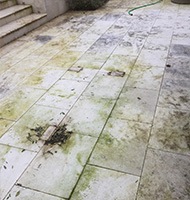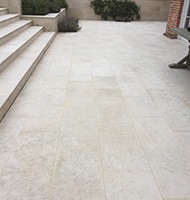 ...